Art Opening for Stella Elliston with "White Light" Exhibit
April 26 @ 5:00 pm

-

7:00 pm

Free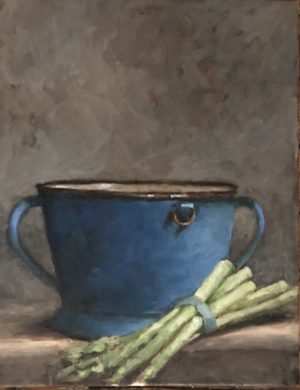 The Chatham Bookstore hosts a reception for an exhibit of oil paintings on canvas by Stella Elliston on Friday, April 26, from 5 to 7 p.m. The show is entitled "Quiet Light" and runs through June 17.
Stella Elliston graduated from Ohio University with a BA in English/Fine Arts. Her work has been shown in various venues and galleries in the Berkshires, Columbia County, and New York City. Elliston especially enjoys having her work in cafes and bookstores, where the life of the community thrives. She lives in Alford, MA.
After college, Elliston studied Eurythmy in England and New York, completing a four-year program and a three-year post-graduate course to prepare for a career as a Movement Therapist (Therapeutic Eurythmist). She and her husband settled in the Berkshires to raise their family of four in 1984, and since then she has increased her focus on painting alongside her therapeutic practice. In 2011, she wrote "Ezra: A Mother's Portrait," illuminating her family life with a special needs child.
Says Elliston, "It has been my good fortune to study with very fine painters in the area who have taught me a great deal about composition, light, shadow, and the poetry that can live in a painting." Drawn to the beauty and mystery of light and shadow, she says, "I paint what moves me and tells a story."