Call for Entries to Farm Film Fest 11 by March 1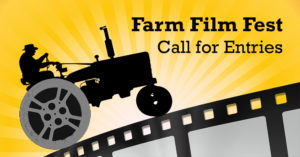 Film entries are now being accepted for Farm Film Fest 11, the annual event sponsored by the Chatham Agricultural Partnership, the Columbia Land Conservancy, and the Crandell Theatre. The one-day film festival takes place on Sunday, March 24, 2019, at the historic Crandell Theatre in the village of Chatham, NY.
The festival shows films that focus on farms and farming issues with special consideration for those with a regional connection. Interest in the festival continues to grow, with attendance increasing each year. The program includes films made by professional and amateur filmmakers. Students of all ages are encouraged to submit entries.
Submitted films can have a running time of 5—20 minutes and may be offered in either DVD or digital format. The deadline for submissions is March 1, 2019.
DVDs may be sent to: Farm Film Fest 11, c/o The Crandell Theatre, PO Box 305, Chatham, NY, 12037. Digital links may be sent to moc.l1547159082iamg@1547159082lebei1547159082bgm1547159082. Submission requirements and forms are available at farmfilmfest.org. For more information, call 518-929-4692.