Walking the Streets of Chatham Through Photographs
March 23 @ 5:00 pm

-

7:00 pm

Free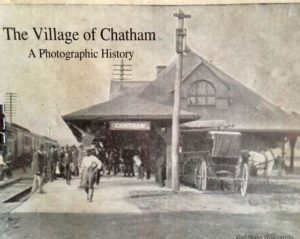 Chatham Village Historian, Gail Blass Wolczanski discusses "The Village of Chatham: A Photographic History Walking Tour Book" on Saturday, March 23, from 5 to 7 p.m. at the Chatham Bookstore. A conversation with Thomas Chulak from the bookstore and Q & A will follow a brief description. Proceeds from the sale of the book fund the Chatham Village Historic Society's Blinn-Pulver Farmhouse Project.
To honor Chatham's Sesquicentennial (150th Anniversary), the 85-page book of photographs was created and designed to be used as a guide to tour the village. The author sought out and shared several dozen historic photos alongside present-day photos to show the comparison between the past and present. She welcomes new contributions to the book.
Born and raised in Chatham and living in the same house in the village that her parents bought in 1955, Gail Blass Wolczanski was appointed Chatham Village Historian by Mayor Paul Boehme in 2006 and has been president of The Chatham Village Historical Society since then. An educator for 33 years, she taught elementary students and teachers near Utica, NY. To learn more about historical research, she attended two week-long Primary Source Courses at the National Archives. Her previous book, "Around the Village of Chatham," was published by Arcadia Publishing in 2009.
The current book begins with a walking tour at Central Square when Village founder William Thomas built the Stanwix, a hotel/restaurant in 1810, catering to stagecoach passengers. The tour continues with a glimpse up AusterlItz Street, River Street, and down Center Street before returning to the Square once again. From there the visual tour takes the reader along Main Street, Park Row, Depot Square, and Hudson Avenue with glimpses of Hoffman and Coleman Street. The tour continues down Church Street, Woodbridge Avenue, and then Kinderhook Street with the option, if walking, to continue to the southern end of Hudson Avenue.