Emily McCully on Computer Pioneer Ada Lovelace at Chatham Bookstore
March 16 @ 5:00 pm

-

7:00 pm

Free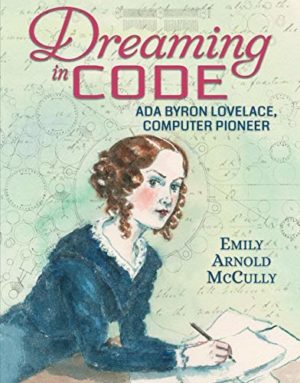 Emily Arnold McCully presents her new book "Dreaming in Code: Ada Byron Lovelace, Computer Pioneer" on Saturday, March 16, from 5 to 7 p.m. at the Chatham Bookstore. The daughter of Romantic poet Lord Byron, Ada Lovelace created what is regarded as the first computer program in the 1840's. A conversation with Thomas Chulak from the bookstore and Q & A will follow a brief reading.
Just published by Candlewick Books, "Dreaming in Code" reveals how the daughter of Lord Byron, Britain's most infamous Romantic poet, became the world's first computer programmer. At the age of 17 Ada met eccentric inventor Charles Babbage, a kindred spirit. Their ensuing collaborations resulted in ideas and concepts that presaged computer programming by almost two hundred years, and Ada Lovelace is now recognized as a pioneer and prophet of the information age.
Emily Arnold McCully has written and illustrated numerous books for children and young adults, including "Mirette on the High Wire," for which she received the Caldecott Medal. She is the author of "A Promising Life: Coming of Age with America" and "Ida M. Tarbell: The Woman Who Challenged Big Business—and Won!" (a finalist for the YALSA Best Nonfiction Book of the Year). She earned a B.A. from Brown University and an M.A. in art history from Columbia University. She has two grown sons and one grandson and divides her time between New York City and her home in Austerlitz, NY.
Among McCully's favorite subjects are brave girls and women. Asked why she wrote "Dreaming in Code" for young adult readers, McCully says: "Readers have been introduced to Ada Lovelace as computer pioneer in recent picture books, but there has been no complete biography of this fascinating woman. Her enormous ambition to be as great as her father, but as a scientist, and the drama of her brief life make an enthralling and surprising story."
"McCully demonstrates that although Ada had the potential to achieve more, she was hampered by sexism, ill health, and a temperament akin to her father's…A sophisticated yet accessible piece that humanizes a tragic, brilliant dreamer."
—Kirkus Reviews