En Masse 2018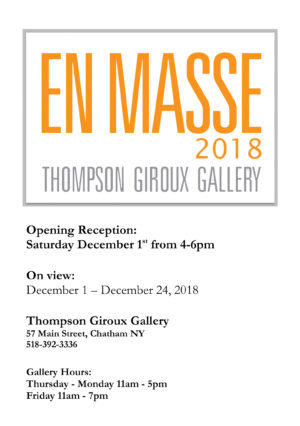 En Masse 2018
On view: December 1 – December 24, 2018
Opening Reception Saturday December 1st from 4-6pm.
Nancy Andell, Fern Apfel, Mary Ashwood, Jim Bergesen, Marcel Bova, Undine Brod, Laura Cannamela, Steven Careau, Benigna Chilla, Frank Curran, Margot Curran, Mary Anne Davis, Dan Devine, Carol Diamond, Cathy Diamond, Tim Ebneth, Jean Feinberg, Leslie Gabosh, Rick Gedney, Barry Gerson, Gail Giles, Kate Hamilton, John Hampshire, Carter Hodgkin, Jim Holl, Katrina Hude, Licha Jiménez, Matson Jones, T. Klacsmann, Georgia Landman, Mark LaRiviere, Leah Lieber, Susan Mastrangelo, Gwenn Mayers, Josh McKeon, Kim McLean, Stanley Moon, Donna Moylan, Mark Olshansky, Dana Piazza, Isabel Piazza, Brian Pike, Matthew Pleva, Lily Prince, Catherine Ramey, Jannelle Roberts, Rich Robinson, Meredith Rosier, Margaret Saliske, Arlene Santana Thornton, Christie Scheele, Elliot Schneider, Scout, Gabrielle Senza, Carleen Sheehan, Jill Slaymaker, Ned Snider, D. Jack Solomon, George Spencer, Lawre Stone, Shawn Sullivan, Helen Suter, Beth Thielen, Tony Thompson, Josephine Turalba, Hazle Weatherfield, Robin Whiteman, Gerald Wolfe, Joseph Yetto, Alice Zinnes
En Masse is back at Thompson Giroux Gallery! This is the fifth year for the by-invitation-only, salon-style show featuring over sixty artists and an incredible range of affordable work–sculpture, glass art, oil paintings, collages and much much more.
The show includes many of TGG's longtime gallery artists as well as a handful of artists who have never shown there before.
En Masse has become a favorite show for our collectors and art enthusiasts—there's truly something for everyone! This exhibition encourages artists to take risks and try new things–many have created brand-new work especially for this event—as well as unlock the vault on some never-seen artworks.
Pieces are available on a cash-and-carry basis beginning the day after the opening, and the show is constantly changing as new pieces are added from the back room.
Don't miss the chance to discover and acquire something special in this year's wild and wonderful En Masse 2018!
Please join us Saturday, December 1st from 4-6pm for the opening reception. There will be light refreshments and food.
on view: December 1, 2018 – December 24, 2108
Thompson Giroux Gallery
57 Main Street, Chatham, NY 12037
518-392-3336
Gallery Hours
Thursday – Monday 11am – 5pm
Friday 11am – 7pm