In Our Own World
December 3, 2020 @ 1:00 pm

-

December 5, 2020 @ 5:00 pm

Free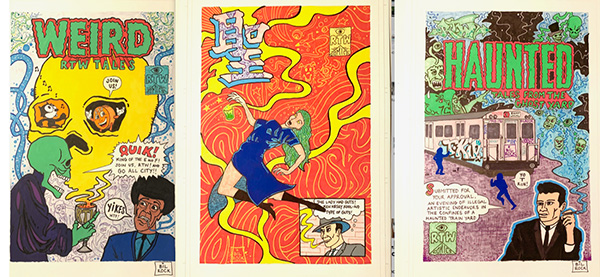 Several years ago I was talking with a friend and during the conversation they said, "We all live in our own world." Artists create a world within their artwork that becomes a reflection of the world that they live in. The six artists being presented have a very interesting way of showing us the worlds that they live in, created, and or documented.
Jessica Bard's photographs invite us into the early days of street skateboarding in New York City during the early 1980s.
Martha Cooper while working for the daily news sometimes at the end of the day would have extra Film left over and would head over to the lower East side and photograph children playing outside.
Bilrock teases us with his comic book covers, giving us a glimpse into psychedelic and graffiti culture. Bilrock is the founding member of the graffiti club," Rolling Thunder Writers", also known as RTW.
GREATBOXERS Paintings confronts us with his portraits Challenging us to a fight in his ring.
Dr. REVOLT Has created An alter ego which is influenced by superheroes and villains.
Alex Itin with his one of a kind stickers of people reminiscent of Picasso's portraits.
Gallery Hours:
Thursday, Friday, Saturday 1:00-5:00pm
Sunday 1:00-3:00pm