Kathryn Schneider and Birding the Hudson Valley
December 8, 2018 @ 4:00 pm

-

6:00 pm

Free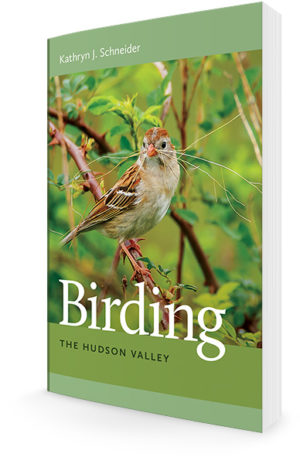 Kathryn J. Schneider brings her book "Birding the Hudson Valley" to the Chatham Bookstore on Saturday, December 8. The author signs books at 4 p.m. as part of Chatham Winterfest. At 5 p.m., a conversation with Thomas Chulak from the bookstore and Q & A follow a presentation by the author. A portion of the proceeds from book sales will be donated to the Columbia Land Conservancy.
Published by University Press of New England in October, "Birding the Hudson Valley" is a guide to birds and birdwatching in the Hudson Valley. Designed for birders of all levels of skill and interest, the book contains explicit directions to more than eighty locations, as well as useful species accounts and hints for finding the valley's most sought-after birds. But beyond providing tips about topics like learning bird calls, buying binoculars, and using apps, Schneider also explores Hudson Valley history, ecology, bird biology, and tourism.
Kathryn Schneider grew up in Claverack, went to Hudson High School, and then attended Cornell and Princeton Universities, where she completed her PhD. She taught college courses in general biology and ornithology at the University of Richmond and later at Hudson Valley Community College. In 1986, she returned to Columbia County and for 14 years directed the New York Natural Heritage Program, a biodiversity inventory program run jointly by The Nature Conservancy and then the New York State Department of Environmental Conservation (DEC). In the 1990s she became a member of the NYS Ornithological Association (NYSOA), later serving as president and vice president.
Currently, Schneider is a Master Gardener for Cornell Cooperative Extension and an active volunteer for the Columbia County Land Conservancy. As a consultant, she has conducted bird surveys for the US Fish and Wildlife Service. She lives in Stuyvesant Falls.
The Chatham Bookstore, located at 27 Main Street in Chatham, NY, features a large selection of books for adults and children, as well as an array of art supplies.