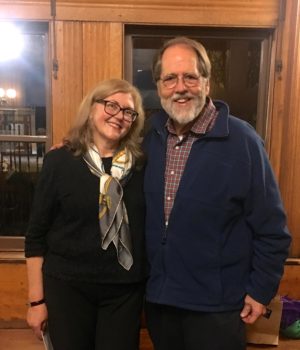 The Chatham Area Business & Arts organization held its annual membership meeting Thursday, November 16 at the Kinderhook Bank. It was both a celebration of new leadership and a goodbye to the outgoing leadership.
Thomas Chulak announced that he would be stepping down as president after the annual meeting. In a letter to the membership he said "After four years in this role, my personal life is changing and I need to open space for this new phase of life. I also believe that changing leadership is a good for an organization. I am proud of the work we have done together as we have reinvented CABA."
Chulak was presented with a gift and thanked for his many years of leadership and for all he his efforts on behalf of the organization. Karen Kaczmar, who stepped down midyear as vice president, was also thanked for her work on the board.
Debbye Byrum, owner of Willow & Oak, will serve as CABA's President. Anne Marshall, Accounting and Office Manager at Columbia Land Conservancy, is CABA's new Vice President. James Knight, owner of SomthingsGottaGive, will fill Chulak's vacated Board seat.
In addition to welcoming new and bidding farewell to departing officers, members were updated about the organization's 2017 efforts and successes. Festival activities were summarized and committee members were thanked for their work.
The Marketing Committee summarized their plans for a brochure to be distributed locally. The brochure will include a map of the village and will be funded with ads. These ads will be similar to those used to support the festivals brochures.
Membership was discussed. Reaching out to new members through a mailing of the area was debated, as was individual (non-business) memberships.
The next CABA board meeting will be held January 13, 2018, 8:30am at Kinderhook Bank. All are welcome to attend.
The Chatham Area Business & Arts (CABA) is a coalition of individuals, businesses and organizations who works to promote the Chatham, New York region as a vibrant, positive environment for shopping, dining, enjoying the arts and conducting business.