Historic Walking Tour of Chatham, NY
We invite you to take a self-guided walking tour of Chatham, NY. First known as Groat's Corners, the village of Chatham was incorporated in 1847 as Chatham Four Corners, and received its present name in 1869. From the 1850s to the 1950s, Chatham was an important main line station on the Boston & Albany. Five railway lines converged here and more than a hundred trains arrived and departed daily. Here's the route.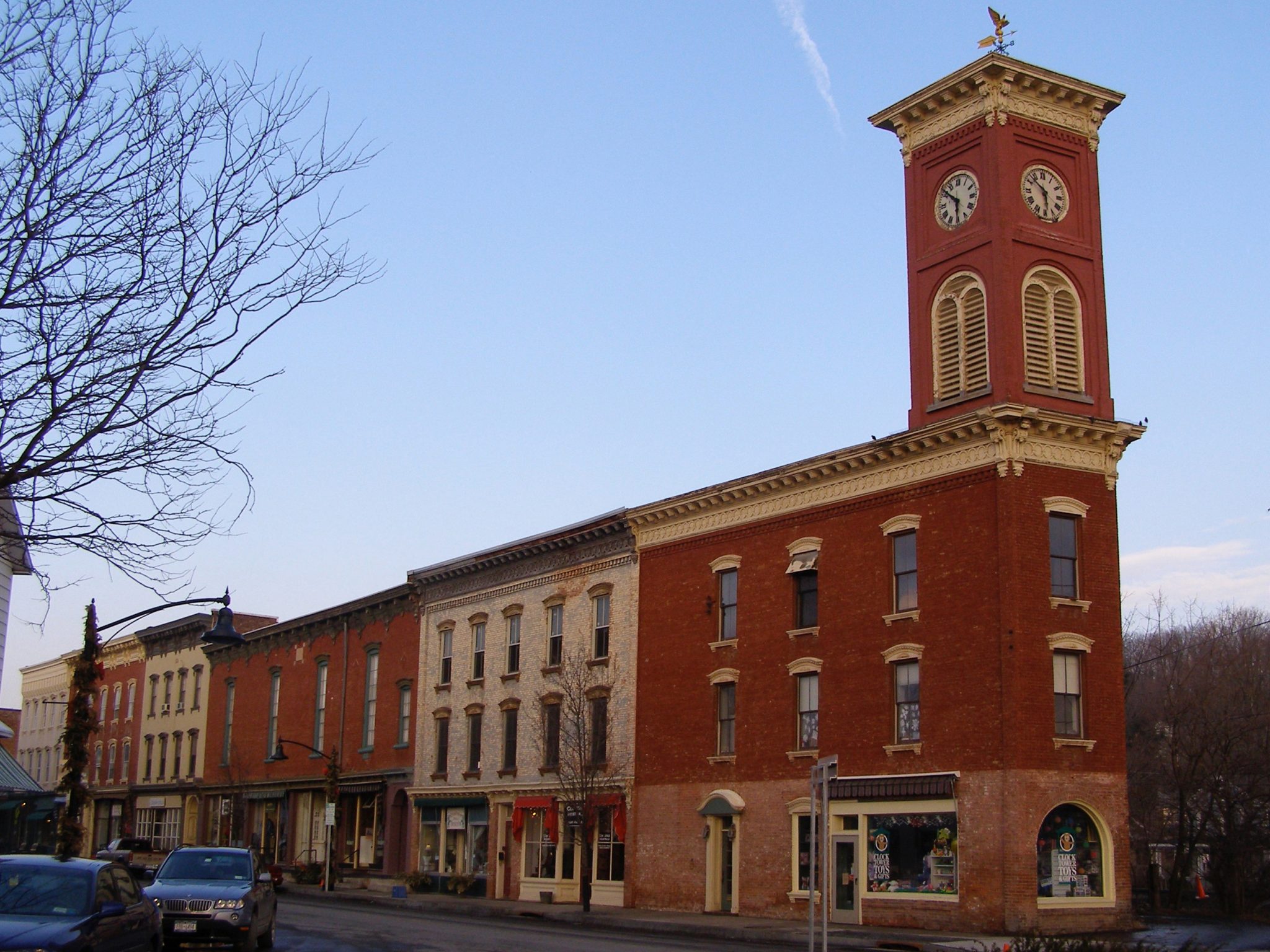 The Clocktower
Chatham's landmark pendulum clock dates back to 1872 and is the only one of its kind still in the original condition. The brick building was originally home to Ocean Fire company #1 on the ground floor, with a millinery shop upstairs.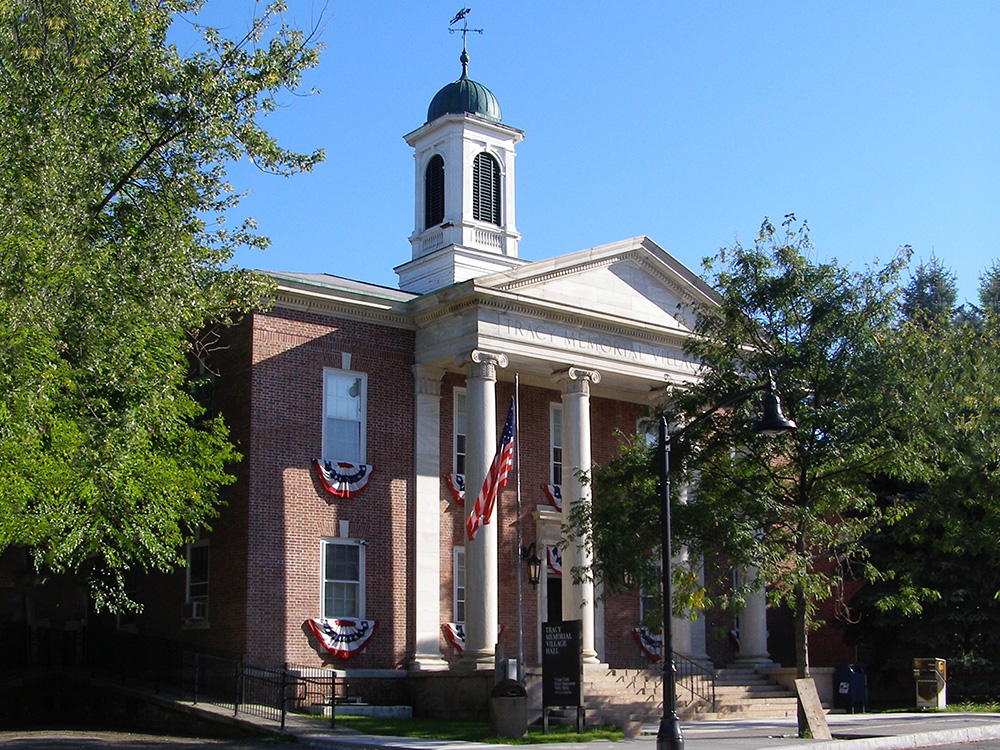 Tracy Memorial Village Hall
Built in 1912, this outstanding building was a gift to the village from the Tracy family. It now houses the police department, clerk's office, and judicial quarters. A handsome ballroom on the second floor is used for town and village court, special functions and meetings. 77 Main Street. Visit the Friends of the Tracy website.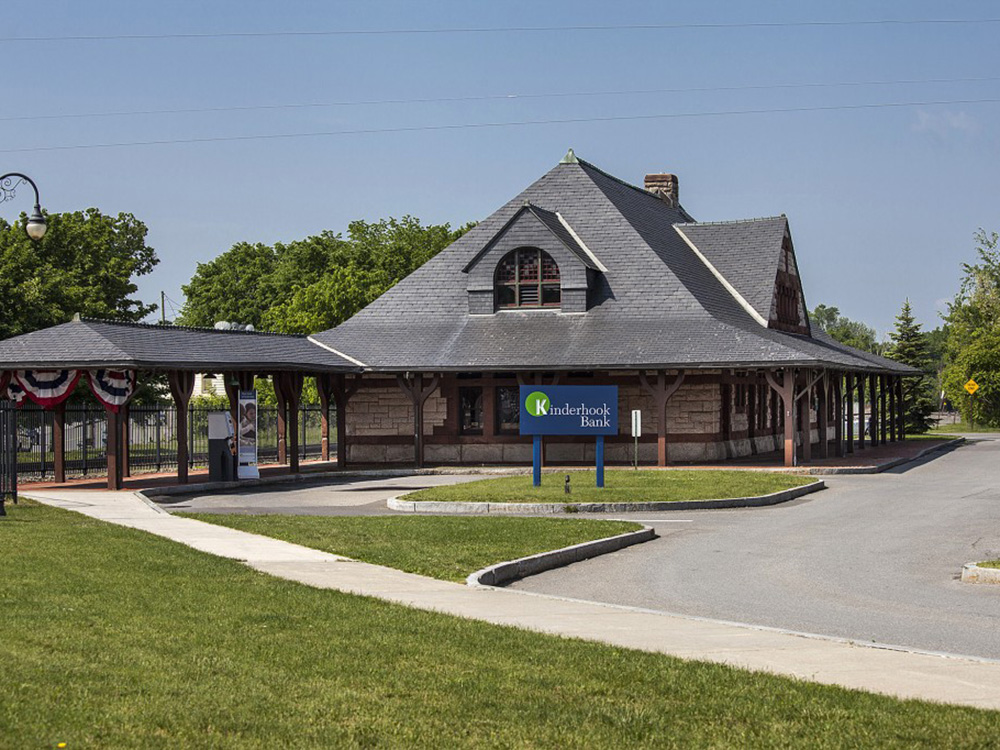 Union Station
Built in 1887 during Chatham's heyday as a railroading center. It closed in 1972 and remained empty until it reopened in 1999 as National Union Bank of Kinderhook. Depot Square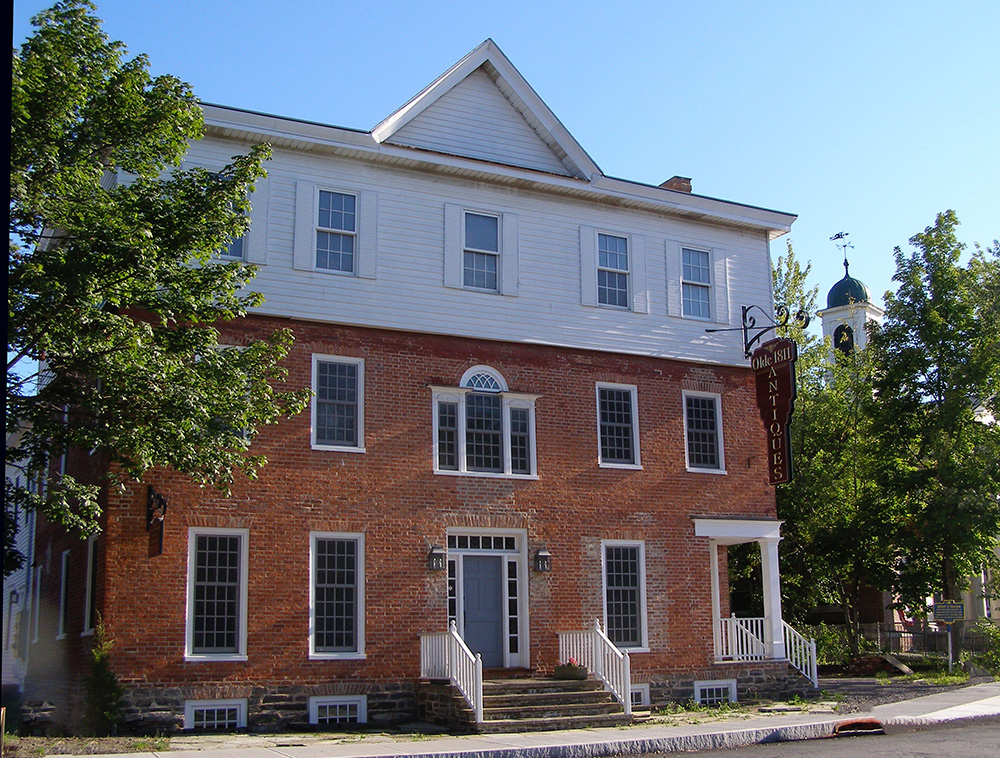 1811 Inn
Chatham's oldest building has been operated as a hotel and tavern. In 1815, it became "Groat's Tavern" and one of its better-known patrons was former President Martin Van Buren, who frequently rode to the tavern on horseback from his Kinderhook home. Central Square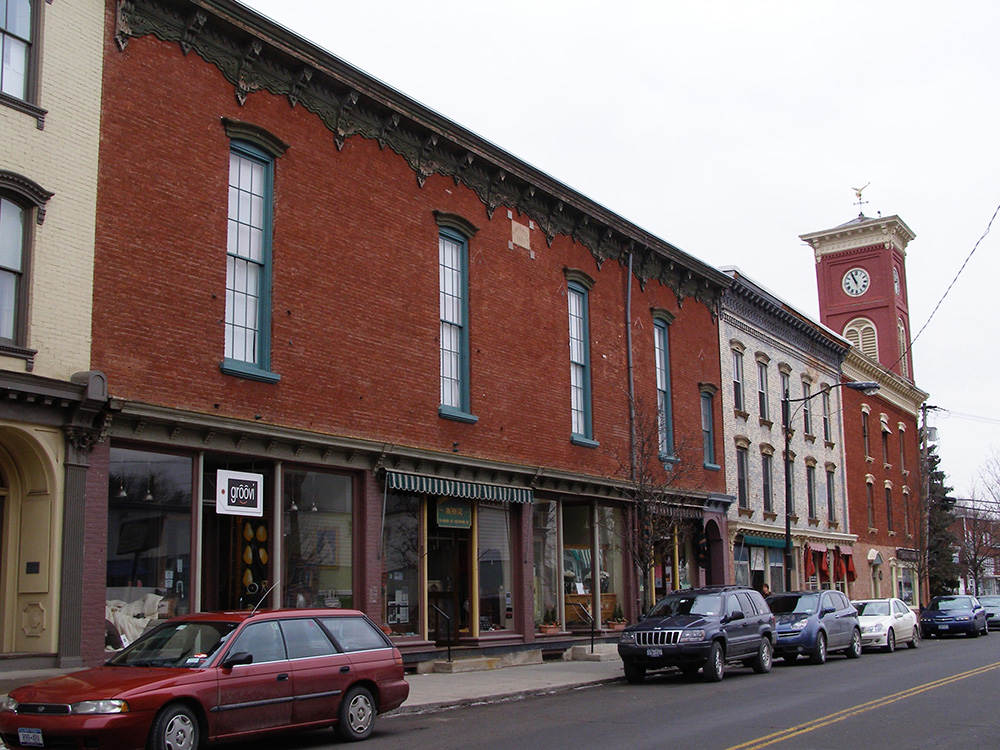 Cady's Hall
Built in 1871, its history of use includes opera house, vaudeville shows, movies, dances, military drills, roller rink and miniature golf course. 13 Main Street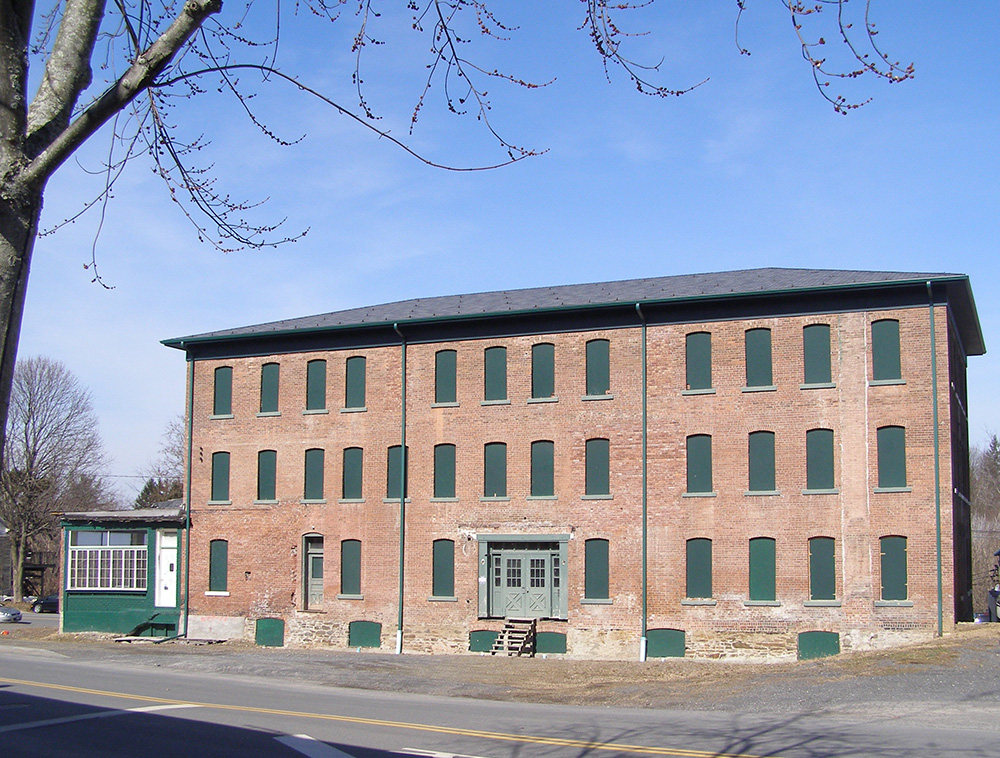 Central Square Building
Built as the Park Hotel in 1815, and later known as the Windsor Hotel, it was a favorite of such luminaries as Harry Houdini and Teddy Roosevelt. The building had various uses including: cancer sanitarium, theatre, roller rink, factory, and furniture store. Central Square
Crandell Theatre
Opened in 1926, it is one of the country's few independently owned movie houses showing first-run films. 46-48 Main Street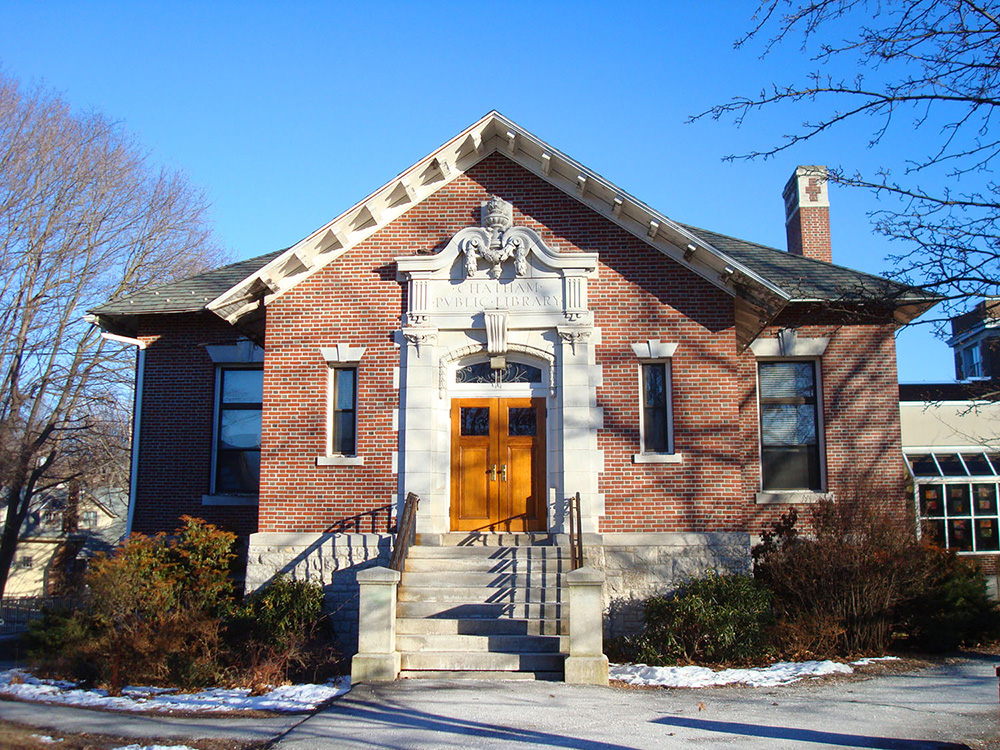 Chatham Public Library
In 1902, a red oak was planted on this site. It is now the oldest Arbor Day tree in New York. The library was completed in 1905 with a $15,000 grant secured by John Wheeler and William Howland from Andrew Carnegie. In 1908 Wheeler's widow donated an original Tiffany window titled "Instruction." Woodbridge Avenue