Chatham OctoberFeast
Saturday, Oct. 7, 11:00am-11:00pm
We celebrated the harvest with local food and family fun. See our gallery of photos from the event. Entertainment included a mini petting zoo, face painting, pumpkin painting, craft projects, several local bands, a pretzel eating contest, dog costume contest, German Costume Contest, Stein Heist, and two Chili Contests! Download the map and schedule of events.
10:00am-4:00pm
| | |
| --- | --- |
| Taste Box Tamales | Outside Taste Box, 17 Main Street |
| Golden Harvest Farms donuts and cider | Outside Willow & Oak, 1 Main Street |
| The Blue Plate will be serving their original meatloaf with whipped potatoes and gravy, roasted carrots, and butternut bisque with spiced almond brown butter. | In the Prepared building at 20 Main Street |
| Pork, Bratwurst & 1/4 Chickens on the smoker for sale | Chatham Brewing, 59 Main Street |
| Cider tastings | Chatham Wine & Liquor, 53 Main Street |
| Alima's Ginger Juice, Hibiscus Mint Tea and more for sale | By the clocktower |
| Ice cream for sale | Outside American Pie A La Mode, 41 Main Street |
| Carolyn Gregory's Meat Ball Subs for sale | By the clocktower |
| Yummy Kitchen food for sale | Near the clocktower |
| Farmer's Market to include Hawks Roost Farm, Hand Hollow Maple, Green Acres Farm, Farm at Millers Crossing | Outside Columbia Land Conservancy, 49 Main Street |
| Free Bus Transportation | from Park Row to Chatham MED |
| Beer Steins and Pretzel Necklaces for Sale by the Friends of the Tracy | Outside R.H. Van Alstyne Fine Jewelry, 42 Main Street |
| Chatham School District Art Show | Throughout Main Street |
| Face Painting | In the Berkshire Bank parking lot, 50-52 Main Street |
| Chatham Fire Department Fire Truck display | In front of Berkshire Bank |
| Mini Petting Zoo with Baby Goats. Also featuring a variety of local and regional goat cheeses, and offering beer and cheese pairing suggestions. | Outside Bimi's Cheese Shop, 21 Main Street |
| Pumpkin Painting and sweet treats for sale by the Lady Reds 10U Softball Team | In the Berkshire Bank parking lot, 50-52 Main Street |
| Chatham Kids Club Crafts and information | In the Berkshire Bank parking lot, 50-52 Main Street |
| Celebrating their 40th Anniversary by raffling a $40 gift certificate. All proceeds will go to the Chatham & Ghent Food Pantries. | Chatham Bookstore, 27 Main Street |
Other Events Throughout the Day
| Time | Activity | Location |
| --- | --- | --- |
| 11:00am | Community Chili Contest to benefit Columbia Pathways to Recovery. Download the Chili Contest entry form here. Judges: Nancy Fuller from Food Network's Farmhouse Rules, Sal DeAngelo CSSD Superintendent, and Tom Curran Chatham Mayor | On Main Street |
| Noon | Stonefly - Local duo playing classic rock favorites. | Chatham Brewing Tent |
| Noon-2:00pm | 2 Blue: Richard Green (blues guitar) and Amy Ryan (gutsy female singer) | Clocktower Stage |
| 1:00pm | Firehouse Chili Contest to benefit Columbia Pathways to Recovery. Local Firehouses compete to see who can cook up the best chili in Columbia County. The public judges. $5 to taste them all! | Chatham Fire Station, 2 Hoffman Street |
| 2:00pm | Ceremonial Keg Tapping. A special keg of barrel aged Dopplebock will be tapped - only available for OctoberFeast! | Chatham Brewing Tent |
| 2:00pm | Brian LaPoint & The Joint - A revolving line up of musical talent led by singer, songwriter and guitarist Brian LaPoint. | Chatham Brewing Tent |
| 2:00pm | Abby Lappen - Hudson Valley singer / songwriter | Clocktower Stage |
| 3:00pm | Pretzel Eating Contest: Soft German-style pretzels hung from a string. The first to finish (no hands) wins a prize. | Chatham Brewing Tent |
| 4:00pm | Stein Hoist. See who can hold a 1/2 liter stein filled with beer at arm's length the longest. | Chatham Brewing Tent |
| 4:30pm | Eli's Gin - Acoustic rock with a kick, covering a wide range of musical styles in a sing along fashion. | Chatham Brewing Tent |
| 5:00pm | Dog Costume Contest. Show off your dog's finest fashion for a chance to win some Chatham swag! Winners announced at 5:00pm. | Chatham Brewing Tent |
| 6:00pm | Best German Costume (Oktoberfest Dirndl Dress & Lederhosen). Come to OctoberFeast in your finest Bavarian outfit for a chance to win a special prize. Contest winners announced at 6:00pm. | Chatham Brewing Tent |
| 8:00pm | Side Show Willie, voted 2017 Best Entertainer in Columbia County | Chatham Brewing Tent |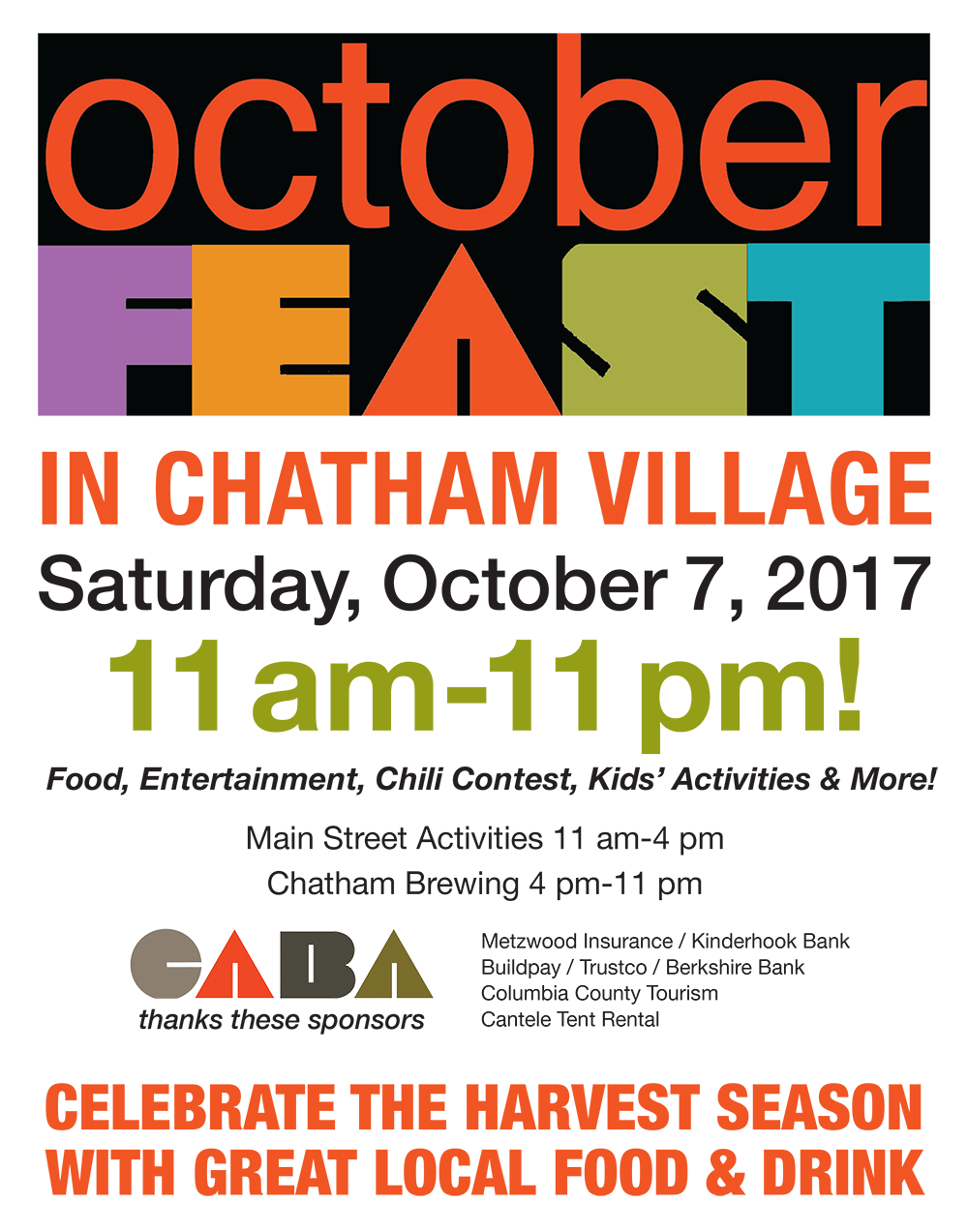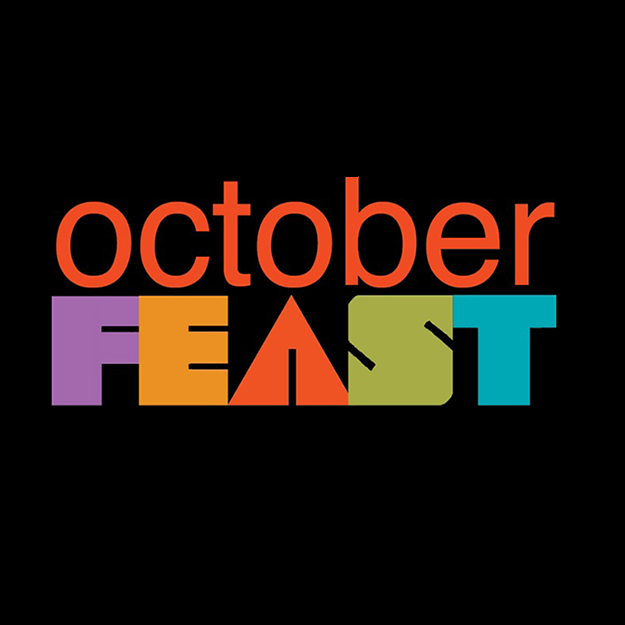 Thank you to our sponsors
Special thanks to these contributing businesses:
American Pie
Beach & Bartolo Realtors
Bimi's Cheese Shop
Boxwood Linen
Chatham Bookstore
Chatham Brewery
Chatham Flowers
Chatham Grill
Chatham Wine & Liquor
Columbia County Agricultural Society
Columbia Land Conservancy
Countryside Dental
French, Gifford, Preitor & Blasl Funeral Home
Inn At Silver Maple Farm
Pookstyle
R.H. Van Alstyne Jewelry
Somethins Gotta Give
Stone House Properties
The Warm Ewe
The Kinderhook Group
The People's Pub
Thompson Giroux Gallery
Victoria Dinardo
Willow & Oak