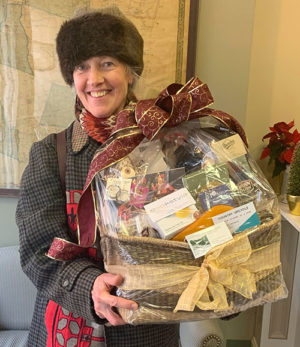 Congratulations to Val Toenes, winner of the All Things Chatham Gift Basket.
Businesses throughout the Village of Chatham welcomed shoppers with special offers and unique holiday gifts. There was a raffle to win a gift basket of goodies from participating shops in the Village. A raffle ticket was issued with any purchase of $5 or more in a village shop and the winning number will be posted on the CABA website.
Some activities included a reading of How the Grinch Stole Christmas at the Chatham Bookstore at 11:00am, a wreath-making workshop at Chatham Brewing at 11:00am, the Crandell Theater had a free screening of the movie "Prancer" at noon , Santa and Mrs. Claus were on hand at 10 Main Street from 1:00-3:00pm to visit with little ones and spread some holiday Cheer. At 3:30 there was a reading of "The Carpenter's Gift" by local author David Rubel as part of the library's Authors, Artists and Community Speakers Series. Holiday cookies and hot cocoa were be served. Personalized signed Books were available for purchase.
Students from Chatham Central School District were on hand to provide Holiday Music and Caroling, a there was also be a Holiday Costume Crawl for adults that wished to don a costume that captured the spirit of the Holidays as they sampled adult beverages at participating venues.
WinterFest Events
| | | |
| --- | --- | --- |
| 10:00am-3:00pm | Open House and accepting new, unwrapped toys for the Salvation Army | Our Community Cares, 25 Hudson Avenue |
| 10:00am-Noon | Nature crafts for kids | Columbia Land Conservancy, 49 Main Street |
| 11:00am | Judy Staber and Thomas Chulak read "How the Grinch Stole Christmas" | Chatham Bookstore, 27 Main Street |
| 11:00am | Wreath-Making Workshop with Flower Blossom Farm. For more information contact Chatham Bewing at | Chatham Brewing, 59 Main Street |
| 11:00am-2:00pm | Our Community Cares' free gift wrapping event. Bring your presents for our volunteers to wrap. Donations accepted. | The Tracy Memorial Village Hall, 77 Main Street |
| 11:00am-4:00pm | Chatham Freshman class fundraiser selling handmade items such as baked goods and candles, along with some apparel | 17 Main Street |
| 11:00am-7:00pm | Santa Pub Crawl. $1 Off your first drink. To win prizes dress in your favorite holiday costume, take a selfie at 3 establishments that day and post it on Instagram with the hashtag #ChathamWinterfest. Winners will be chosen at randon. Download the flyer. | Blue Plate, Yanni's, People's Pub. Chatham Brewing and The Chatham Grill |
| Noon | Free screening of "Prancer" | Crandell Theatre, 48 Main Street |
| Noon-2:00pm | Pet pictures with Santa | Our Community Cares, 25 Hudson Avenue |
| Noon-3:00pm | "Have A Bite... Help A Family" fundraiser hosted by the Chatham Middle School National Junior Honor Society and PTSO. Tag sale including holiday decorations, soup samples and other tasty bites. | Christ Our Emanuel Church, 19 Park Row |
| 1:00-3:00pm | Visit with Santa and Mrs. Claus | 10 Main Street |
| 3:30pm | A reading of "The Carpenter's Gift" by local author David Rubel as part of our Authors, Artists and Community Speakers Series. Holiday cookies and hot cocoa will be served. Personalized signed Books will be available for purchase. | Chatham Public Library, 11 Woodbridge Ave, Chatham |
| 9:00pm | Live music by Aaron Rothko | The People's Pub, 36 Main Street |
WinterFest Sales
| | | |
| --- | --- | --- |
| 15% Off Lamporium Lamps | Large selection of unique lamps | Country Upcycle. 6 Main Street. Open 11:00am-4:00pm |
| 15% Off all Calendars | Large selection | Chatham Bookstore, 27 Main Street |
| $5.00 Margaritas | Lunch served | The People's Pub, 36 Main Street |
| 20% Off All Giftware and Colored Stone Jewelry | | Van Alstyne Fine Jewelry, 42 Main Street |