JAMES CHRISTOPHER CARROLL WITH MATT DRAKE on view Oct 15 – Nov 13
October 15, 2022

-

November 13, 2022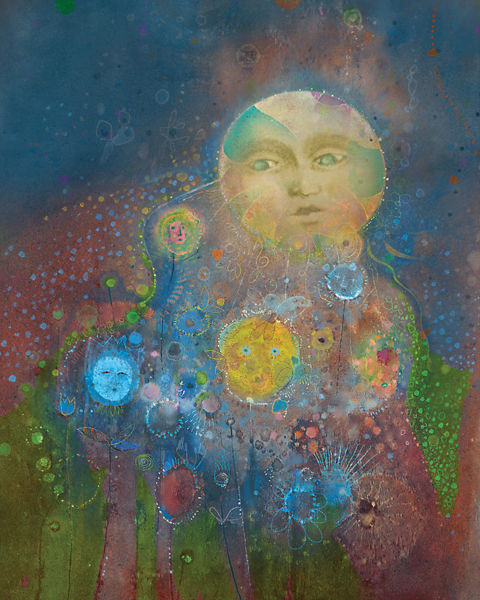 JAMES CHRISTOPHER CARROLL 
WITH MATT DRAKE
October 15 – November 13
James Christopher Carroll
Artist Statement
To live as an artist may be the most selfish thing a person can do; but I have never understood how to do anything else. Perhaps, after all the words and colors have dried, they can bring some beauty to others.
I have spent much of my time illustrating and writing books for children. There's enchantment in the slow waltz of words and pictures across the page. In truth, I write for myself, to create a world that I want or that I remember. My best work comes when I allow the process to remain just beyond my control, for as long as I can bear it. Setting the ego aside for a spell allows me to drink from a well that my ancestors dug a long time ago.
I've spent my entire life here in these hills; I've worked and played, raised my children and fallen in love here in the Hudson Valley. The beauty around us is unavoidable. The mountains are haunted with lovely old ghosts. I wonder if there could be a place, better charmed than what we have here? 
Matt Drake
Artist Statement – A Life Alive
I love the Democratic nature of today's selfie, social media driven photography, where anyone with a smartphone can share their story. My exhibition is an attempt to show the breadth of my experience using commercially available prints anyone can access through a simple app. It's a series of snapshots in collage where each piece contributes to the bigger picture.
Prints center on my love of family, cycling, travel and adventure, as well as my journey with cancer.
On view October 15 – November 13, 2022 
Thompson Giroux Gallery
57 Main Street
Chatham, NY
12037
518-392-3336
Open Thursday – Monday, 11-5
image of My Last Lullaby, 2022, Mixed media by James Christopher Carroll