Movement without Borders
August 21, 2021

-

October 21, 2021

$15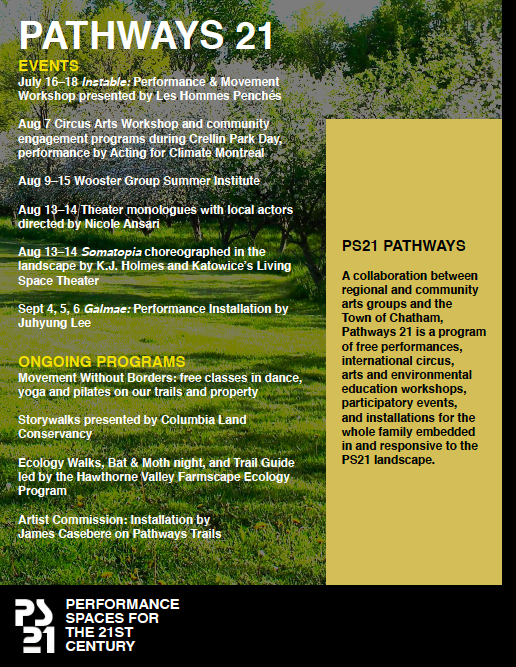 Invigorating, adventurous 70-minute sessions held weekly in the Dance Barn and trails of PS21's campus. Open to all ages and levels, focusing on mind, body, and spirit. A perfect complement to this summer's Pathways festival, Movement without Borders classes are led by contemporary performance and theater luminaries. Suggested donation $15.
Yoga with Sondra Loring, Wednesdays, 12:00 noon
To ensure that adequate social-distancing, pre-registration is required for all Movement without Borders classes. PS21's open-air Pavilion Theater and the Dance Barn, equipped with sliding doors on two sides, both provide safe, natural cross-ventilation.
About the Pathways festival: Participatory workshops, community engagement and education, and performances again form the heart of PS21's Pathways, our popular pas de deux between nature and the arts. Taking place on the expanded network of trails that link our fields to neighboring Crellin Park, Pathways 2021 highlights include circus arts, dramatic and dance practice and performance, educational and environmental walks, and a new site-specific art installation.