The Subject is The Line on view August 7 – September 5, 2021
August 7, 2021

-

September 5, 2021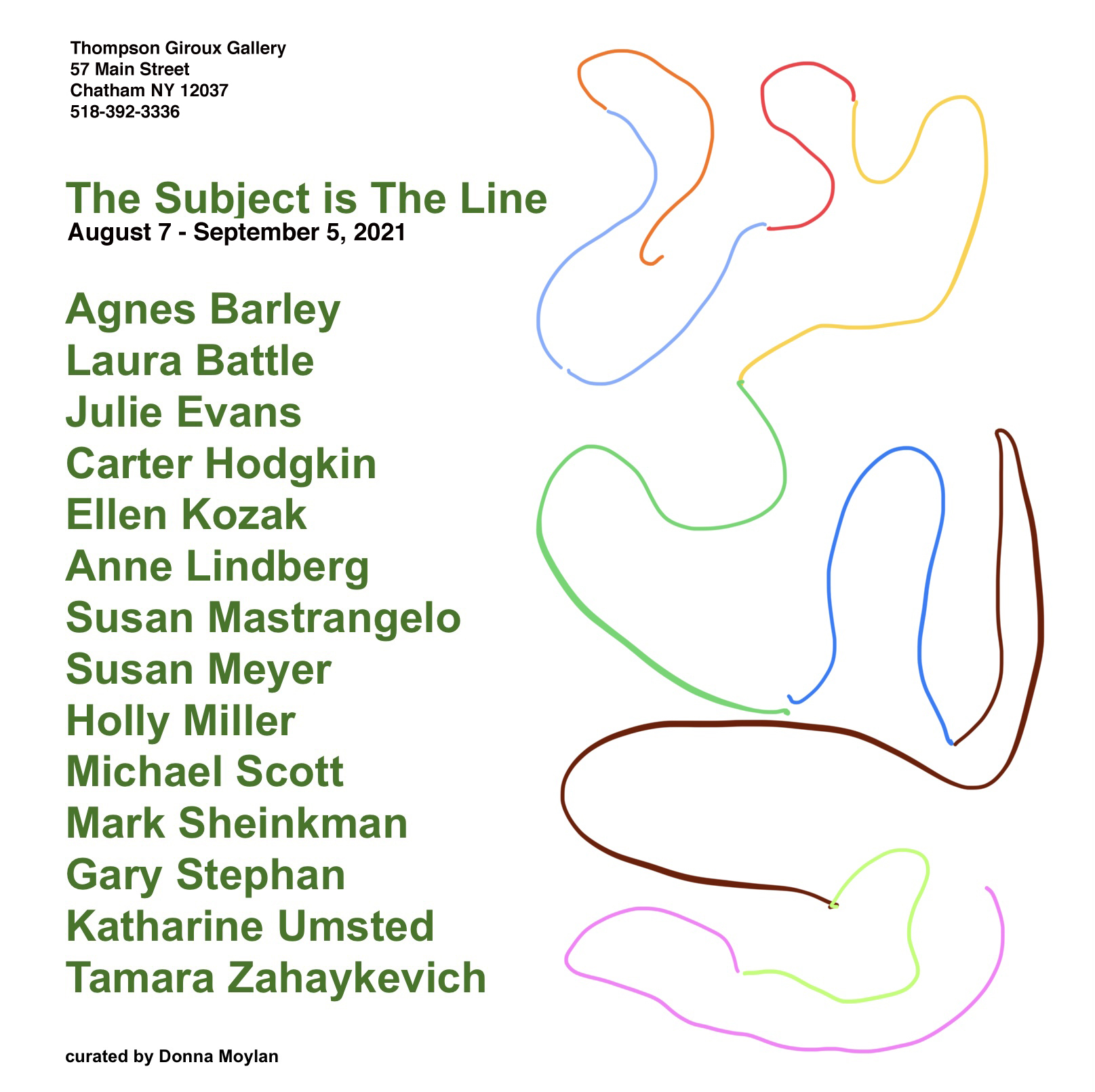 The Subject is The Line
August 7 – September 5, 2021
 Agnes Barley
Laura Battle
Julie Evans
Carter Hodgkin
Ellen Kozak
Anne Lindberg
Susan Mastrangelo
Susan Meyer
Holly Miller
Michael Scott
Mark SheinkmanGary Stephan
Katharine Umsted
Tamara Zahaykevich  
curated by Donna Moylan  
From time to time, cultural activity shifts location from one part of the world to another. Like a charged cloud it seems to drift…then hover here…or there…and stay a while. Certain big clouds of energy may go down in the history of culture, such as the one in Paris in the late nineteenth century or the one that alit on New York in the twentieth. Now, over two decades into the twenty- first century, areas of cultural activity are all over the world and are exchanging information and ideas, images and text, music and poetry, while storing them into another kind of cloud, The Cloud, where we trust they will be kept fresh for posterity.  
Nonetheless, the objects that artists make require physical space; the pleasure of seeing paintings and sculptures in person is as vital as hugging or kissing or eating food. Even very shy artists, even the most reclusive, enjoy conversations; we like gossip and politics and delving into philosophy, art, science and politics IN PERSON.  
A few years ago the presence of artists in the Hudson Valley area began to increase.Some artists like the hills, others the woods or to be within view of the river itself, free from its confined banks in New York City looking mighty and gentle at once passing farmland and small towns on its way north. Now a painter working alone in the studio upstate has the company of other artists in their spaces not far away — or at least within the famous hour it takes to get lots of places.
To a degree, the fact that many others' minds and hands are engaged in this specialized, creative work lends to the whole area an atmosphere of serious playfulness.Perhaps the ancient intelligence of farmland is especially compatible to art-making, as if the quiet labor, the seasonal rhythm and crop harvesting of farming had a similarity to studio work. The woods and hills, ponds and river are settled into themselves, offering not just pretty views but an invitation to reflection. 
And there are so many artists! I for one, have never seen anything like it. 
Having had a couple of shows with Bill Thompson and Marie-Claude Giroux at their eponymous gallery in Chatham, I wanted to bring together a group of artists who have affinities among themselves for an exhibition there.
A figurative painter myself, I was looking over the fence to abstract artists, where I noticed a certain phenomenon concerning the treatment of The Line. Line is a word with pages of definition in the dictionary; it is the touchstone, the starting and ending of many endeavors, it is a marker and a mark.  
These artists make of The Line the very protagonist of the work, both what it is about and how it is demonstrated — or demonstrates itself. If anyone likes words as I do, 'demonstrate' is rich, from 'point out' in Latin and 'monstrum', omen or wonder. Mostrare in Italian is 'show', dimostrare from monstrum, in an Italian dictionary, means, startlingly, 'indicate divine will'.  
The Artists: 
Underlying Agnes Barley's work a code of lines predicates the placement of rectangular shapes. Other lines glimmer through washes of color that conform to the code of lines — like lines of poetry. 
Laura Battle has found a way to suggest buildings or stairways (or perhaps even thought patterns?) with lines on paper or canvas. Finding nineteenth century business ledgers hidden in a building in Hudson that had been an apothecary, all lined on pastel-colored paper and filled with beautiful, meticulous handwriting, recording purchases, she took pages from them and created a different kind of recording, with lines and translucent shapes.
Julie Evans paints as if from nature objects we know but have never seen. Fungi-like or seaweed- like shapes emerge from gouache on paper with areas enhanced with almost-invisible colored pencil; then, as if in a moment of focussing, a line of dots comes into view, as if to say, 'this is what it's about'. 
Carter Hodgkin, known for huge mosaic installations, makes paintings with tiny hand-colored squares of paper attached to canvas that has been photographed with linear patterns. The mosaic- like squares depict atomic energy, cosmic tracery and recently, vertical lines like plants rising from a horizontal foreground. 
Right on the bank of the Hudson River, Ellen Kozak's studio has a view of river traffic, tugs and tankers traveling up and down. Her abstract paintings depict the river, the ripples, the painted colors of the vessels and the reflections of their lights on the water with absolute economy of means. The river's surface, a painted ground, vertical bright lines. 
In Anne Lindberg's drawings a million lines both astound by their complexity and complete an image of a painting of lines. As beautiful as the drawings are, as they may play with light and shade, the fact of being made of lines and about lines is always present. Susan Mastrangelo employs lines with emphasis. They wind and curl; grid-like patterns of knitted yarn or ropes come off the background like bas relief: all together they virtually become representations of abstract painting. 
For Susan Meyer, a sculptor, the lines of planes intersecting not only grapple with space in three dimensions, they are lit on the edges in bright neon-y colors so lines draw in space while the planes meet like tilted shelves or geodes. 
Holly Miller's elegant paintings of geometric shapes on canvas are not what they seem: like a secret, a thin hand-stitched line of thread skirts the external straight line the shapes carve from a pale background. Like a tip-toeing subversive, that line of thread following the large shape informs the work. 
With Michael Scott, who paints lines all the time, often on thin aluminum, in vertical lines rigorously spaced or in concentric circles and in graceful monolithic sculptures, now and then surprising with a humorous version full of smudges or flaws — even when the lines make the shape of a tree, it is the line itself that fascinates. 
When the line in Mark Sheinkman's paintings appears in its twists and turns, its clarity and sfumatura, there is no doubt that line is the subject of the work and what also makes it. Against its background, informing color, the line in these paintings can seem an expression of joy or desire, of tension or studiousness. Sometimes it evokes a particular thing, like smoke or string or a taut spring…but the association dissipates instantly. The line in Mark's painting remains itself, just as it appears. 
Gary Stephan's current work synthesizes many years of abstract painting. By simple means, the very fact of the usual painting rectangle is subject to review. Angular shapes subvert gravitational expectations as colors slip from deep hues to subtly shifted shades against quiet backgrounds. Strictly abstract, these spare paintings reveal precise decisions. The painting at Thompson Giroux is called MIRROR THREE. 
Bandages and plaster, paint and a veil of glitter are the simple ingredients of Katharine Umsted's vessel sculptures. As often in Umsted's work, contradictory elements are at play. The delicate, pink walls of the vessels are made of line upon line of plaster-soaked bandages, as if to staunch a wound; the ship-like shapes contain emptiness. The vessels nonetheless seem to sail on with a brave smattering of glitter, like ocean liners on a sea of unstated emotion. 
Tamara Zahaykevich is a sculptor, is a builder, is a painter of her sculptures. As the word 'sculpture' seems to invoke carving, Tamara carves in the air. The forms she creates droop over pedestals, bounce off the walls or perk up like sentries — but they are never anthropomorphic. Made of thousands of strips of colored, painted paper over an armature, or shaped of strips of material around an enclosed void, the sculptures are extremely complicated, linear shapes made of lines of material that have become solid. 
The Subject is the Line, curated by Donna Moylan is on view August 7 – September 5, 2021
Thompson Giroux Gallery
57 Main Street
Chatham, NY 12037
(518) 392-3336
Gallery Hours 
Thursday – Monday 11-5 
Open till 6pm on Saturday August 7th
Masks Required
No appointments necessary, we are limiting the number of people in the gallery at a time.
We hope to see you soon!