Compagnie Galmae – Juhyung Lee (France / South Korea): C'est pas là, c'est par là (It's not that way, It's this way)
September 3, 2022 @ 8:30 pm

-

September 4, 2022 @ 9:30 pm

$15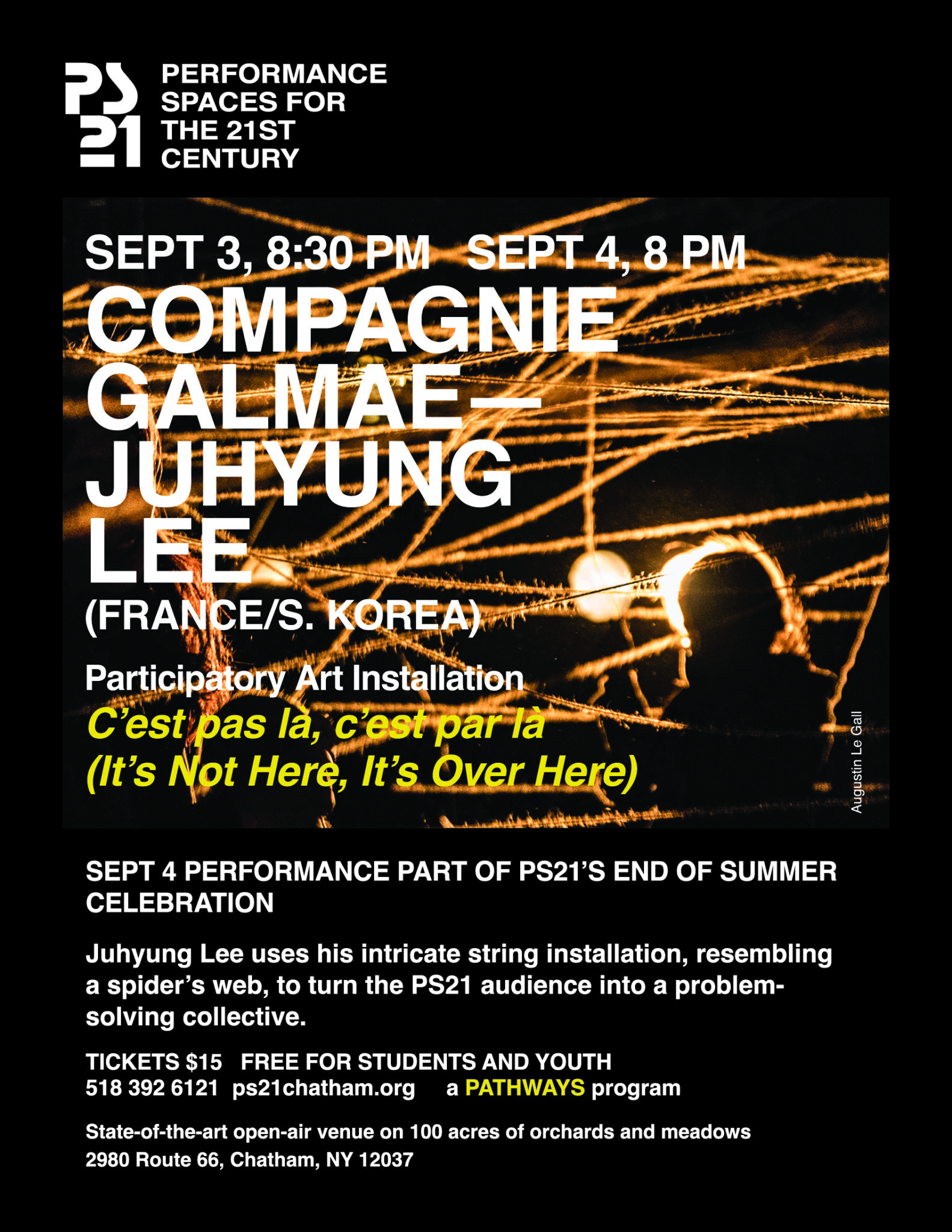 September 3, 8:30 PM
September 4, 8:00 PM
Inspired by his experiences of street protests in Seoul, Compagnie Galmae – Juhyung Lee transforms a crowd of PS21 spectators gathered on the land and trails into a problem-solving collective. Faced with a dense maze of string that resembles a spider web, one spectator picks up a stone and starts to roll up the string bound to it, another walks into the middle of the labyrinth and contemplates the unraveling tangle. Passing over and under the threads, the spectators, transformed into actors in the performance, help each other.
A neutral space becomes a place of encounters, the individuals form a community. It is fun, participatory, political, playful, and collaborative, and the evening ends with a celebration to commemorate the achievement of working together as a community. In the process, they begin to ask questions: What are individuals when they form groups to pursue a common goal? How do crowds move? How do people work together to solve a problem?
Having toured the world, Compagnie Galmae's collective performance C'est pas là, C'est par là engages audiences with the PS21 landscape, where they join forces to negotiate their relationships to space, place, and one another through a designed environment built specifically for the performance. Playful, political, and participatory, the work epitomizes PS21's PATHWAYS programming.
Tickets $15.
September 4 performance as part of the PS21's End of Season Celebration!