PS21's End of Summer Celebration Featuring Philippe Quesne's Band "The Moles," Participatory Art Installation from Compagnie Galmae, and More!
September 4, 2022 @ 6:00 pm

-

9:00 pm

$15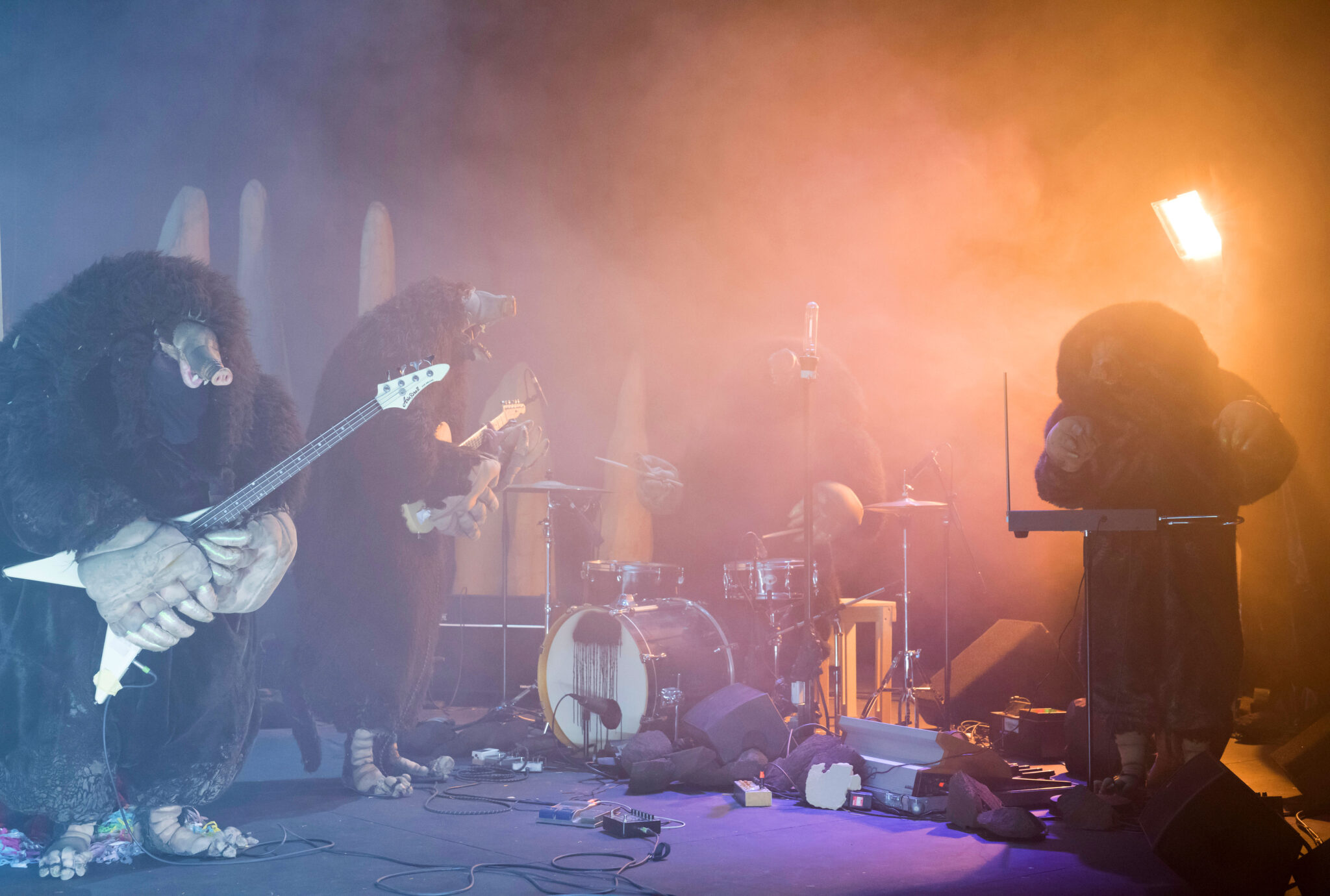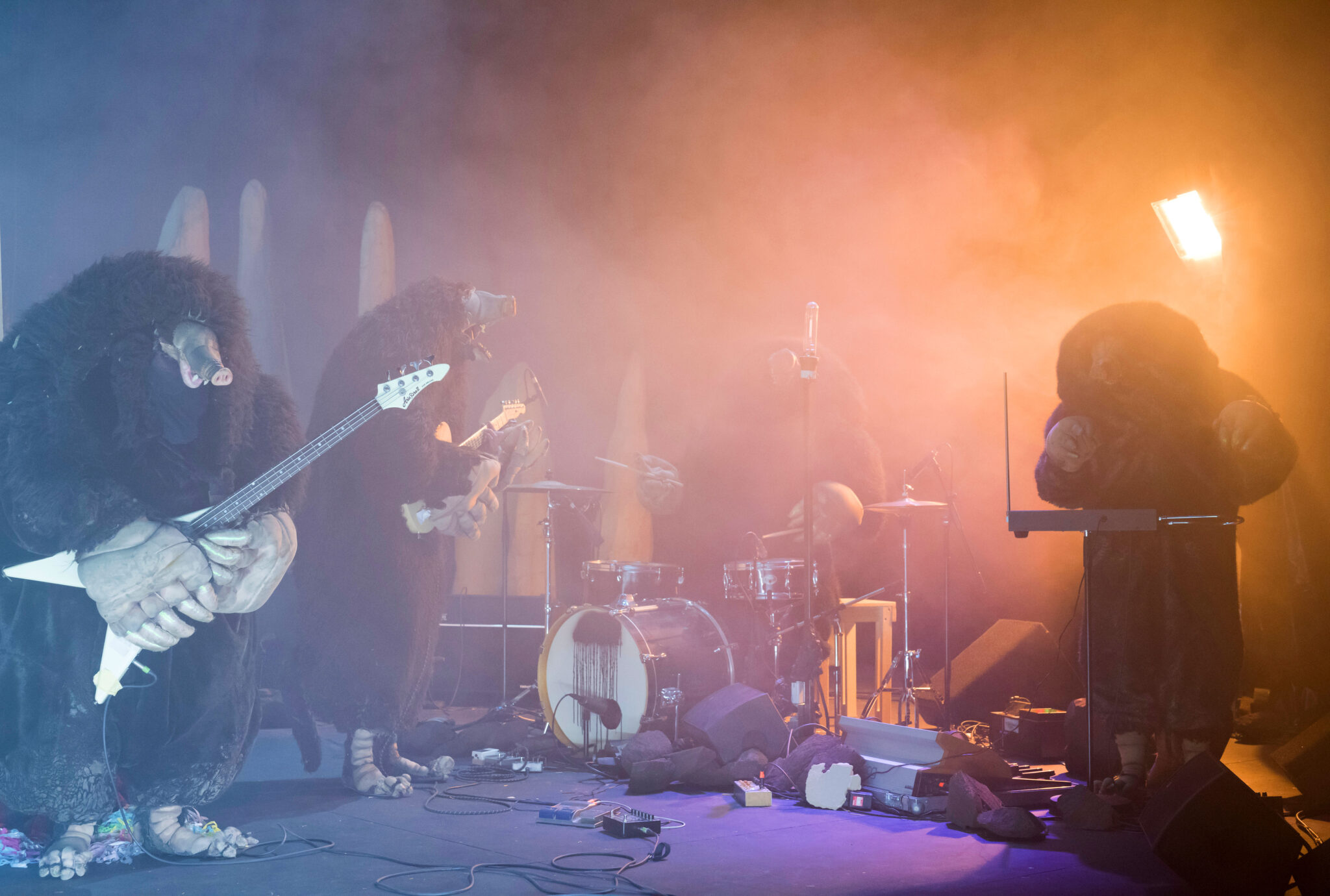 PS21 celebrates the end of its spectacular 2022 summer season, a summer overflowing with music, dance, theater and artistic residencies. Among the causes for celebration, the expansion of our PATHWAYS programming, an ever increasing array of free workshops and community focused events. Join us as we usher in the Fall with some PATHWAYS highlights, featuring an immersive participatory art installation from Compagnie Galmae (France), a rock concert from Philippe Quesne's band The Moles (France), cash bar at our two pauls cafe, and more!
Tickets $15, FREE for PS21 members
6–6:30 PM: Welcome toast at the site of Solo Pavilion for Two or Three
James Casebere's Solo Pavilion for Two or Three, an imposing new work by the photographer and installation artist, was unveiled at PS21 in 2021 as part of UPSTATE ART WEEKEND. With Solo Pavilion for Two or Three, Casebere extends the interrogation of the constructed environment that he began in 1975. Like his earlier works, it is rich in ambivalence: luminous yet portentous, offering protection but open, exposed to the elements while shielding its occupants. To Casebere, the result is "a playful atmosphere…an expression of the indomitable human spirit." In a recent conversation about his 2020 exhibition On The Water's Edge, he observed, "The best architects have always built for the poor and less privileged and I would love to collaborate with others to get things built for the more vulnerable around the globe." Read about more about the artist here
7–7:45 PM: Philippe Quesne's The Moles rock concert, PS21 Pavilion Stage
In The Moles, a companion piece to Farm Fatale, Quesne invites audiences into a parallel universe where there are no humans and no words. In this mysterious underground world, larger-than-life moles are the architects of something between a processional utopian spectacle and a punk rock band. One of Quesne's signature creations, the moles are a flexible art form, becoming whatever you want them to become, from cute selfie opportunities to staunch political agit-prop. Have fun, or dig deeper for the truth, whatever you like. The moles interrogate possible realities with the brusque movements of their paws and leave you to draw your own conclusions. The moles will appear at the PS21 End of Summer Celebration on September 4.
8 PM: C'est pas là, c'est par là (It's Not Here, It's Over Here) by Compagnie Galmae – Juhyung Lee (France / South Korea)
Inspired by his experiences of street protests in Seoul, street artist Juhyung Lee transforms the audience into a problem-solving collective on the hill overlooking PS21's Pavilion Theater. A string installation resembling a freshly woven spider's web reconfigures the public space. One spectator picks up a stone and starts to roll up the string bound to it, another walks into the middle of the labyrinth and contemplates the unraveling tangle. Passing over and under the threads, the spectators, transformed into actors in the performance, help each other. The neutral space becomes a meeting place, the individuals form a community in this designed environment built specifically for the performance. A highlight of PATHWAYS, this playful, political, and participatory work engages audiences with PS21's landscape.