Lily Morris "Aeria Signum" Solo Exhibition
October 23, 2021

-

December 12, 2021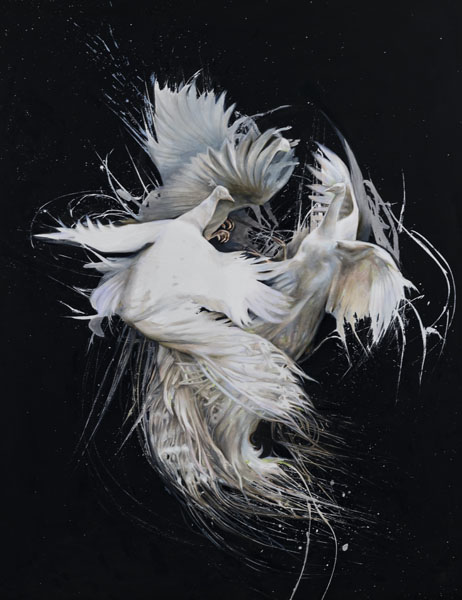 Lily Morris
Aeria Signum
October 23 – December 12, 2021
The augur of ancient Rome was an individual who provided answers about the future using the patterns, flight paths and behavior of birds to prophesize the will of the gods. After almost two years of sickness, death, and fear, as we collectively look for answers, Aeria Signum invites you to look to the birds — their ferocity, their magic of flight, their proximity to both the heavens and the tumult of the terrestrial realm. Today we stand to devine not the auspices of the old Gods, but a more complex reality, man made and unknowable, amidst a deeply uncertain future.
Each work in this series begins with wild gestural paint marks made by long strands of synthetic hair as a paintbrush.
The hair mark initiates the piece with the performance of the feminine, the witchy, a wild and unhinged sexuality – creating a sign out of chaos to be refined and interpreted into a mythology for the future.
On view October 23 – December 12, 2021
Gallery Hours: Thursday – Monday, 11am to 5pm, Open 11-6 on Sat. Oct 23rd.
Image of "Septentrio", 2021, Oil and acrylic on linen, 72″ x 56″ by Lily Morris
Thompson Giroux Gallery
57 Main Street, Chatham, NY 12037
518-392-3336
thompsongirouxgallery.com