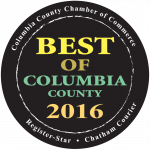 The third annual Best of Columbia County awards ceremony was held Thursday, June 23. More than 20 of the 90 categories were awarded to businesses, organizations and individuals from right here in Chatham, NY. Thank you to everyone who took the time to cast a ballot.
Congratulations to all of Chatham's "Best of Columbia County 2016" Winners!
We invite you to come visit our little town and see why so many of our businesses were voted "Best in the County!" The awards were announced Thursday, June 23, 2016. See the list of all 90 winners.
Local Shopping
Building Supply Store: Ed Herrington, Inc. (Herrington's)
Clothing, Shoes and/or Accessories: Browns Emporium, Inc.
Florist: Chatham Flowers & Gifts
Jewelry Store: RH Van Alstyne Fine Jewelry
Local Book Store: Chatham Bookstore
Lodging: Inn at Silver Maple Farm
Specialty Food Store: Bimi's Cheese Shop
Local Food & Drink
Baked Goods: Our Daily Bread
Farm Stand: The Berry Farm
Local Beer: Chatham Brewing, LLC
Local Wine: Hudson-Chatham Winery
Nightlife
Happy Hour Spot: Destino
Community
Block in the County to Shop: Main Street in Chatham
Community Event Spring: Sean's Run
Community Event Summer: Columbia County Fair
Managed Town: Chatham
Wedding Venue: Chatham Fairgrounds
Arts & Culture
Artist: Roger Mason
Local Live Theater: The Mac-HaydnTheatre, Inc.
Local Movie Theater: Crandell Theatre
Services
Alternative Energy: SunDog Solar
Architect: Kate Johns AIA
Financial Advisor: Edward Jones
Realtor: Beach & Bartolo, Realtors, Inc.
Web Developer: Trevellyan.biz